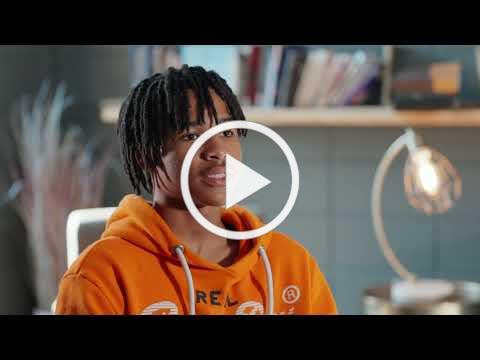 Watch this incredible video as Jamias, First Priority student leader, shares how he came to Christ through First Priority! It's such an incredible testimony!
Lives were transformed and students were equipped at Leader's Summit!
On Thursday, September 22, First Priority held its 17th annual Leader's Summit where nearly 250 students, faculty sponsors and campus coaches were in attendance. We were very encouraged as THREE students professed Christ at Leader's Summit! "I just wanted to let you know because I am SO encouraged; one of the girls that came today is searching and she prayed to receive Christ as her Lord and Savior," said First Priority Campus Coach and Local Youth Pastor David Ivestor. "You guys are doing great things!"
This year's theme was "Are You Ready?" Students were asked a series of questions: "Are you ready to be Gospel-focused? Has the Gospel changed your life? Who is God calling you to share that Gospel message with at your school?" In order to have First Priority at your school, students must lead. We had six amazing students share about what they are doing to take a stand on their campus. Challenges were given to students to have a disciplined time of prayer in their lives and spend time with the Lord so they are full of the Word and not conformed to the world around them. Some students were so vulnerable about sharing personal stories of what God had delivered them from and how their parents were healed of addiction in their lives because of their prayers and faithful witness to be salt and light in front of their families. They spoke about being bold for Christ and they have seen Him do incredible things. High school students have been visiting the middle school near them and praying with students for their campuses. The focus question at Leader's Summit was, "Are you ready to lead First Priority and see the Gospel go forth at your school?"
Pictured is Moody High School's First Priority student leadership team
The Call to Share session was based on our EPIC strategy to take the Hope of Christ to every student:
Equipping students to know how to share the Gospel
Preparing students to share their personal faith story
Inviting students to come and share the simple Gospel message with response cards
Connecting students to God, a First Priority club, to have community and to connect them to a church family to grow in their faith and be discipled. Are you ready to be strategic to reach your school?
Sessions were led on how to share the Gospel using the Four Icons, how to share your testimony, how to connect students into local churches, and how to overcome objections and take practical steps to get students involved in the local church.
The conclusion of the day was the Call to Prayer and students prayed for one another and many were prayed over to be sent out and ready to reach their school with the Hope of Christ. It was such an incredible life-changing event! We hope you will take a moment to check out more pictures from the day below.
Thousands gathered locally for See You at the Pole
On Wednesday, September 28, thousands of local students participated in this year's See You at the Pole™ (SYATP). Millions of students were involved globally. Before school, students joined together at their school's flagpole in prayer for their friends, school, city, state, nation and the world. Many lives were touched, changed and challenged by one of the nation's largest prayer movements. First Priority and SYATP are celebrating 32 years this school year!
This year's SYATP theme was "Aflame" and the scripture verses were Romans 12:11-12 – "Never be lacking in zeal, but keep your spiritual fervor, serving the Lord. Be joyful in hope, patient in affliction, faithful in prayer."
During SYATP, we receive numerous testimonies of how God moved in our schools and through our communities. We hope you'll take a moment to read a few incredible testimonies below:
"Today we had over 30 high schoolers at See You at the Pole. It was freezing this morning but students still gathered together to pray for our teachers, our administrators, and our fellow peers. I am beyond grateful for the work God continues to show at Moody High School. I know God has great plans for us and He will continue to work not only in my school, but every Saint Clair County School as a whole." – Kayson, First Priority Student Leader, Moody High School
"We had 85 students at See You at the Pole and 25 students received Bibles. Good things are happening on our campus! Please keep our school and club in your prayers." – Kathryn, First Priority Faculty Sponsor, Etowah Middle School
"I want to testify about what God did at our See You at the Pole Rally! For the last five years over six churches have come together at different locations to worship and hear the Gospel shared by students! This year, we had seven churches represented and over 300 in attendance! We gave $170 to local missions and most importantly, 10 people professed Jesus as Savior! This generation is passionate about Jesus and sharing the Gospel with those around them, they just need an opportunity to do it!" – Phillip, First Priority Campus Coach and Representative
Please take a moment to check out a great SYATP news article and many other great articles from The Alabama Baptist here.
Thousands of students also participated in SYATP rallies held across the state on the evening of September 28. There were countless decisions made for Christ on this momentous day. During this important prayer event, students were encouraged to humble themselves in prayer and seek the face of God.